H2O Getaways is a Boutique Houseboat Rental Company that operates along the lower half of the Trent-Severn Waterway, from Lock 1 in Trenton, Ontario to Lock 21 in Peterborough, Ontario. They have re-imagined, re-designed, and renovated their Boutique Houseboats to include creature comforts such as upscale linens, bedding and towels, as well as modern amenities such as bow and stern thrusters creating a safe, comfortable, rejuvenating escape. Currently available are 3 boats; Mr Healey – 44', BataGirl – 44' & Mr. Falls – 40'. Each boat sleeps 6 adults comfortably. Along with the boutique houseboats, H2O Getaways also offers kayak, paddle board & aqua pad rentals. The Captain of the boat is required to have their Pleasure Craft Operators Card before arrival and before guests leave the dock, Jen and John offer a comprehensive, hands on training session.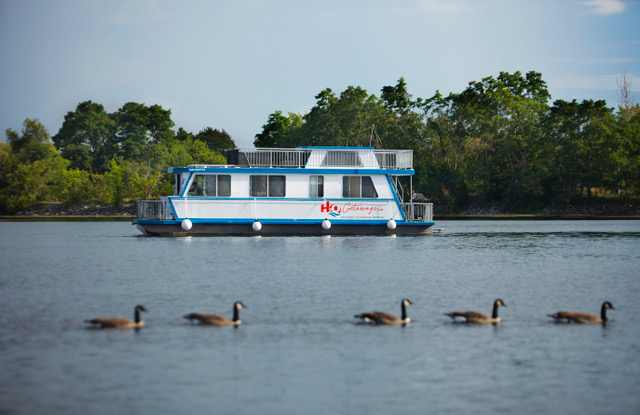 Challenges & Success
The biggest challenges Jen and John faced starting H2O Getaways was that it all unfolded during COVID. Borrowing a phrase from War & Peace, Jen says, "It was the best of times, it was the worst of times". They faced many changes, from accessing renovation materials to connecting with banks, lawyers,& insurance people in a timely manner. Even after managing to make things work despite the pandemic, their biggest challenge recently has been finding reliable labour.
"There have been many overnight work sessions compensating for people not showing up. It's been a great lesson in learning to appreciate any downtime we do get during the summer wholeheartedly. It's a bit like parenting a small child!" Jen shares with a smile. "We also recognized that we can't do everything, and have learned to hire other entrepreneurs to fill those gaps when needed."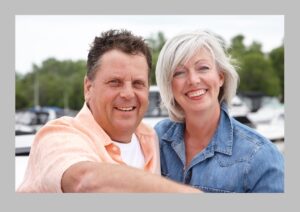 Despite these challenges, Jen and John have created a strong, unique and thriving business. Last year (their first full season), they were 80% booked and have received nothing but 5 star ratings on Google. They have had guests from France, Germany, Toronto, Ottawa, Quebec and of course, a lot of locals experiencing their own backyard in a new, exciting way! Jen was also asked to speak about her entrepreneurial journey at the 2022 International Women's Day event, which has inspired other female entrepreneurs in the area. Other highlights include being nominated in the New Business Category for the 2022 Business Achievement Awards, and being part of the Bay of Quinte & Quinte West Discovery Guide.
H2O Getaways is the only houseboat rental company this side of the TSW.
Trenval Experience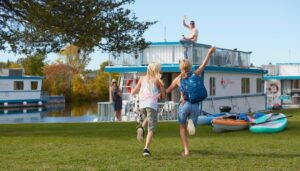 https://trenval.ca/wp-content/uploads/2023/03/h20-Success-story-2-1.jpeg 640w" alt="" width="300" height="171" class="alignright size-medium wp-image-9172" style="height: auto; max-width: 100%; margin: 0px; padding: 0px 0px 20px 20px; border: 0px; font-size: 16px; vertical-align: baseline; background: transparent; float: right;" loading="lazy" decoding="async" />Jen and John started working with Trenval and the CFDC after being referred by Derek Morgan at the BDC. Having both lost their jobs & income due to Covid, they knew that they needed to find funding support. Other entrepreneurs also recommended Trenval and attested to their willingness to work with people to bring their ideas to fruition, which made the next steps of their entrepreneurial journey very clear.
When asked about their experience, Jen says, "It was, and continues to be a tremendous partnership between all of us. Everyone at Trenval, in particular, Eileen Brown, has been extraordinarily helpful, supportive and encouraging. There is no way we could have managed without their support. We were also fortunate to benefit from grants & mentorship with the help of Luc Fournier at the Small Business Centre."
Both Jen and John believe that H2O Getaways would have never come to fruition without the knowledge, support, encouragement and funding that they received from Trenval. .
Community Impact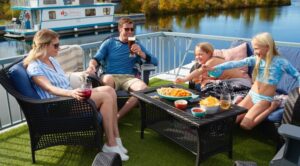 https://trenval.ca/wp-content/uploads/2023/03/h20-Success-story-3.jpeg 640w" alt="" width="300" height="166" class="alignleft size-medium wp-image-9173" style="height: auto; max-width: 100%; margin: 0px; padding: 0px 20px 20px 0px; border: 0px; font-size: 16px; vertical-align: baseline; background: transparent; float: left;" loading="lazy" decoding="async" />Although H2O Getaways has not been in operation for many years, they are already seeing a larger, positive impact on their local community. As a result of their unique boutique services, they have attracted people from all over to the area. They also strongly believe in promoting other local businesses along the TSW and within the Quinte West & Bay of Quinte Area.
"We have created jobs primarily in cleaning & renovating, but have also hired local photographers, models & website creators. We also pride ourselves on purchasing items needed from local artists, businesses or restaurants," Jen shares.
On looking into the future, Jen says they are ready to finish redesigning & renovating two more boats. Future goals include designing a boat that can also accommodate wheelchairs. They hope to partner with chefs, sommeliers, brewers, restaurants, photographers, RMTs & estheticians locally to create experiences guests can add to their houseboat adventure.
For more information on H2O Getaways unique houseboat experience along the TSW, please visit https://h2ogetaways.ca/.
Final Thoughts on Working with Trenval
"It has been, and continues to be, a happy, productive, supportive partnership all around. Very adaptable, willing to find solutions, open to possibilities and taking the time necessary to create an ongoing profitable relationship." – Jen Cook, H2O Getaways