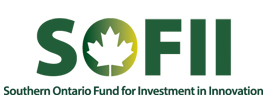 This program supports high-growth, innovative Small and Medium-sized Enterprises (SMEs) in rural and urban communities by offering loans of $150,000 to $500,000 to support all aspects of growth challenges facing them. SOFII provides interest-bearing business loans to support innovation and growth in small and medium sized enterprises (SMEs) across the region.
Loans Program
The Southern Ontario Fund for Investment in Innovation (SOFII) loan fund acts as a catalyst for increased investment in and support for innovation and is one element in the emerging climate of support for high-growth companies in Southern Ontario. Launched by the Government of Canada in July 2012, SOFII is supported through FedDev Ontario and is delivered by Community Futures Eastern Ontario. SOFII is a $30 million fund, available to eligible organizations across Eastern Ontario.
Financing For:
Late stage commercialization
New product or service development
New applications or markets
Development or implementation of new processes or technologies
statement of interest
To complete your statement of interest and find out additional information on our application process, please click here.
Loan Terms:
Loans ranging from $150,000 – $500,000
Interest Bearing term loans
No Fees
Repayable anytime without penalties